The Heaven on Earth – Kashmir is the biggest tourist attraction place and this year, it received a record-breaking traveller's footfall at Indira Gandhi Memorial Tulip Garden. This is one of the major tourist attraction places of Srinagar and was formerly called Siraj Bagh.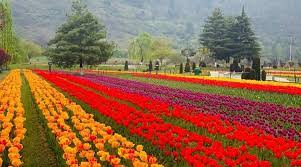 The garden was opened for travellers on 23rd March 2022 where under the Zabarwan Mountains, people enjoyed and loved the beauty of 1.5 million multicolored tulips. These were the record-breaking numbers so far that's why the Tulip Garden in Ramban district of Jammu and Kashmir has reopened again for visitors on 7th April 2022. The reopening of the garden is expected to be the beginning of a new tourist season.
The Tulip Garden is developed by Floriculture Department and its Director Jatinder Singh and aims to promote more tourism in the district; that's why, the J&K government has expanded the Tulip Garden and hass included five acres of land, provided by the (PDA) Patnitop Development Authority.