If you are a pet owner and travel freek then travelling somehow seems like a task as leaving behind your pet for days and weeks sometimes becomes stressful. To avoid leaving your pets alone, people prefer to travel via road and those who don't get this option leave their pets alone. Do you know leaving pets or separating from them results in anxiety in pets too? But, now with all thanks to Indian Railways, travelling in trains with your pets is no longer a restriction. Indian Railways being the most preferable way of travelling has allowed people to take their pets with them with complete safety and at affordable costs. However, this is abided by some rules and here's is what people need to follow: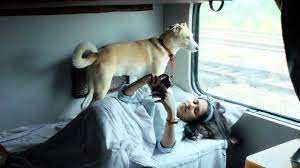 1: Pets are not allowed in AC Sleeper coaches, second class coaches and AC chair car coaches. So, a person can book first class AC tickets either with a cabin of 4 seats or a couple of seats. 
2: After the confirmation of tickets, write an application to the Chief Commercial Officer with a copy of the ticket and specify the reason for traveling with your pet. This will help you get a cabin despite a random berth. 
3: Pet parents have to arrange the water and food items on their own.
4: Pet parents have to carry their pet's collar and chains as Indian Railway isn't responsible for them.
5: Carrying a pet on a train also demands their vaccination certificate; so, pet parents have to ensure that their pet's vaccination card is ready with them. Also, it is suggested to carry a fitness certificate from an authorized Vet for your pet.
6: People travelling with their pets will get their cabin's confirmation at least 4 hours before the departure time. Once the cabin gets confirmed, you must reach the station at least 2 hours before the departure and show your tickets, pet's required certificates and other documents at the parcel office.
7: It is also important to carry photocopies of all the documents along with one photo identity proof so that the concerned authorities can book a cabin for your pet. Following this, your pet will be weighed and parcel charges will be levied.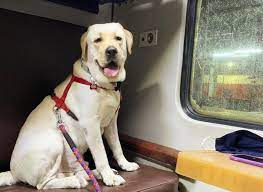 Pets often get stressed and uneasy while traveling by train as they don't eat or drink much. You can take them on walks at stations so that they may not get troubled or anxious.
With all such norms, make your travel easy, convenient and enjoyable with your pet.