From being a dish exclusively served at fine dining restaurants to being available for takeaways, sushi has come a long way and Indians have grown accustomed to its raw taste. Japanese cuisine has grown popular amongst Indians and we are nothing short of delighted to have discovered it.
There are many places in Delhi where you can treat yourselves to authentic sushi and even find Indianised versions. Here is a list of restaurants where you can find them:
Three Sixty Degrees, The Oberoi
It is one of the first 5 star restaurants that started serving authentic sushi in Delhi. It has an extensive menu of sushi that makes it easy for you to overlook other delectable cuisines that this place serves. Pick from Tuna, Yellow-tail and even salmon. Don't forget to try the signature dishes.
Average Cost for Two: Rs. 6,000
Kampai, Aerocity
This place is great for both, lunch and dinner. You can also find sake here to go with your sushi. The courteousness of the staff here is impressive and some of the best dishes served here include Seaweed Potato Coquette, Brie Cheese Tempura and Salmon Sushi.
Average Cost for Two: Rs.3,500
Fuji Japanese Restaurant, Cannaught Place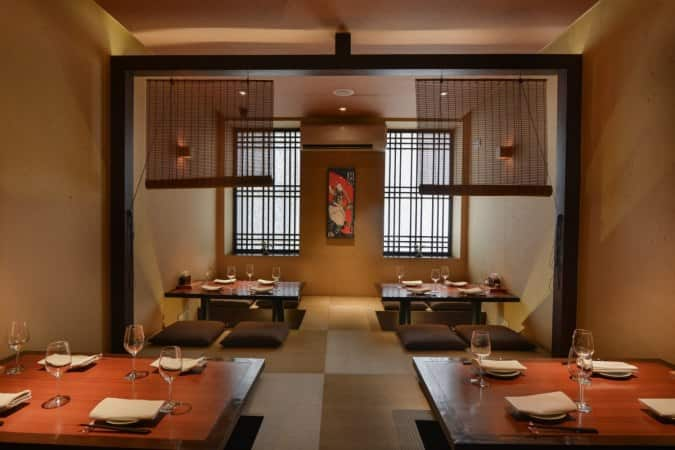 With impressive interiors and authentic sushi, Fuji impresses many people and rarely anyone leaves unsatisfied. Though its a bit expensive, this restaurant serves lip-smacking dishes that will be worth your money.
Average cost for two: Rs.2,000
Fatty Bao, Sangam Courtyard
This place is known to serve the best Asian dishes and many would agree. One sushi that people enjoy thoroughly at Fatty Bao is Mushroom Sushi Roll. If you have been to high-end restaurants, you may not find sushi here to be authentic but still will be nothing short of impressive.
Average Cost for Two: Rs. 1,800
Yum Yum Cha, Saket
It is a casual dining restaurant that serves freshly made sushi on a conveyer belt. This place is also appreciated for its Origami-inspired theme and also serves the best Mochi ice cream.
Average Cost for Two: Rs. 1,800